Month ending April 2021
A message for our Clients
We hope everyone had a Happy Easter (seems so long ago) and were able to enjoy a well-deserved few days break with some beautiful weather.
As we come into May, it feels as though there is some normality seeping back into our lives as the word "COVID" starts to be heard less all through the media. What does this mean for us in Real Estate?
Over the past few months our office has seen Sales increase and move toward to a pre pandemic "normal". We are seeing a mix of both homeowners & investors selling and buying. The continued low interest rates may also play a part in this, but either way we are seeing some great traction.
All of this has also allowed people who had put their plans to purchase on hold during the past year, get back into the market and subsequently we have seen an increase in supply in available rental properties. This means Residential Rental Providers need to be aware of what the market is doing to ensure they are positioned well to be able to lease their property.
Our office hasn't really seen a huge impact since the commencement of the new Rental Reforms, which indicates we have prepared ourselves and our clients well for all the changes. One of the biggest changes for investors has been the legal requirement for gas and electrical compliance checks on rental properties. We cover more of this further in our newsletter.
On a final note, May is all about mums – we hope that all the mums out there are spoilt on Mother's Day. This month's quote of the month is for all the mums.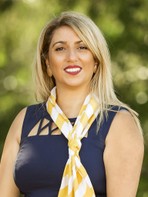 "A mother is she who can take the place of all others but whose place no one else can take"
– Cardinal Mermillod –
New obligations for gas and electrical safety checks
Leading into winter, it is important that gas appliances, such as heaters, are properly maintained by a licensed or registered gas fitter. If gas appliances aren't maintained, they can cause carbon monoxide poisoning.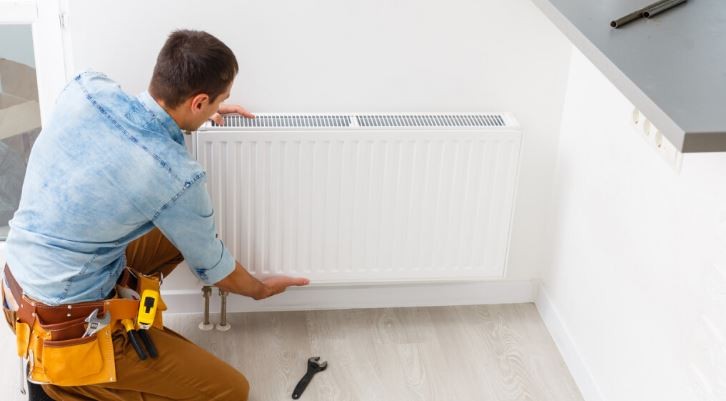 Rental providers who enter into a new agreement after 29 March 2021, or have a fixed-term agreement of more than five years which rolls over into a periodic tenancy after 29 March 2021 must:
– have gas safety checks conducted every two years by a licensed or registered gas fitter, and
– keep records of the safety check and provide details if the renter asks
– disclose the date of the last gas safety check, and any outstanding recommendations from the safety check before entering into a rental agreement.
If a gas safety check has not been conducted within the last two years when the renter moves in, the rental provider must arrange a gas safety check as soon as practicable.
Finding a licensed gas fitter
– A licensed gas fitter is a plumber who has extra qualifications to complete gas work safely, and is registered with the Victorian Building Authority.
– You can find licensed gas fitters by searching online or using a directory such as the Yellow Pages.
– You should ask to see the card that says the plumber is qualified to carry out gas fitting work.
Evidence of gas safety check
The gas fitter should provide a record of the gas safety check. The document must include:
-the full name and business details, including the licence or registration number, of the gas fitter who did the check
– the date the safety check was conducted
– the results of the check, including any servicing and repairs required and actions taken to address the repair.
For more information on the obligations of a Rental Provider please visit Consumer Affairs Victoria. CLICK HERE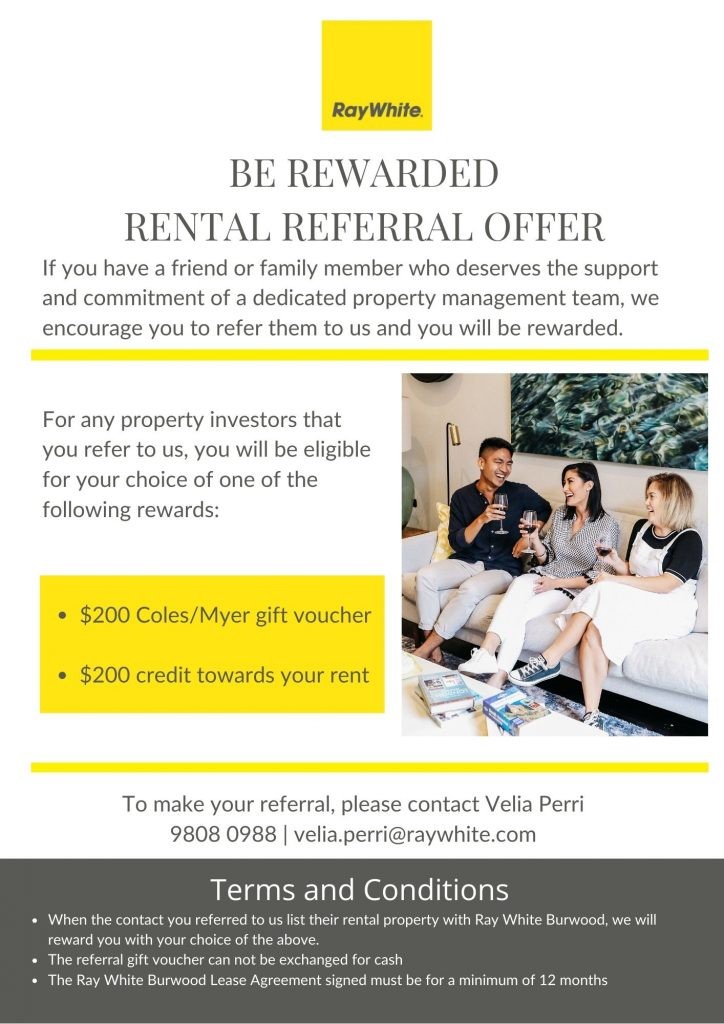 Congratulations to our 'Tenant of the month' for April
Congratulations to our tenant of the month, Nicole Cherry. We hope that you enjoy the $50 gift voucher.
This is our way of recognising and thanking the wonderful tenants who take the time and effort to maintain the property as if it were their own. And YES, there is a $50 gift voucher reward for our monthly winners to enjoy! You will also receive a 'Tenant of the month' certificate which you can use if you need a reference check for future rentals. If you meet the below criteria, you will be in the running to be selected as Ray White Burwood's 'Tenant of the month'.
NO RENT ARREARS—Please ensure that your rent is paid promptly on or before the due date.
LEASE OBLIGATIONS—Must be met at all times, including ongoing presentation of the property, prompt reporting of maintenance, and regular maintaining of the garden/lawns.
ROUTINE INSPECTIONS—If you have had a routine inspection conducted during the month and your home and garden is presented in immaculate condition.